We recently delved into the world of, well "The World". First we had the gorgeous Mouk and now we have this fabulous Atlas:
Pop-up, Pull-out, Picture Atlas (Dorling Kindersley). We were lucky enough to have this wonderful atlas given to us at Christmas. It begins rather excitingly with a pop up globe (yep, a proper spinning globe – a must see…), which of course sets the tone of excitement. The atlas is then structured in the same way throughout:
– A geographical map of a continent, with a pull out political map
– A summary page – picking up key highlights for each continent
– A flip page with all the flags and info on key animals, cities, natural features and "what is produced"
The geographical maps are supplemented with pictures associated with the different areas: e.g. a small Statue of Liberty or the Panama Canal. There are also questions to encourage you to explore and combine the information you are seeing: e.g. on the North America page – it asks you "Where can you find silver" and combining the geographical map (which shows a bar of silver) and the political map – you can work out it is Mexico.
This is a truly amazing atlas – and the best I have ever seen for children – right from 3yrs old (Red Ted's) to school age – I can imagine this being very helpful in basic school assignments. And certainly will help nurture a curiosity about the world. We love it.
What does Red Ted think? Red Ted is only just short of three and the concept of the world is new to him. However he shows great interest when we talk about "Where Austria" is and "Where Daddy is going on a business trip" and how Granny and Grandpa had to take a plane to get to Laos… and where IS Laos… well even Mummy had to look it up to get it 100% right! Of course a lot of the information goes way above his head, but I expect to use this book for at least another 5 years! If not longer!!
Like the sound of this book? Why not buy it through my Amazon store? This will secure me a small commission, which will help continue this blog going.. you will still only pay the "normal" Amazon price. Win win!
Joining in with Notes From Home Carnival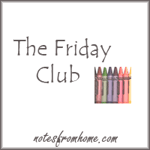 Notes from Home: Sad Book. Jax from Making It Up reviews ten favourite books she loves to read with her children in My favourite books. Kelly from Domestic Goddesque posts about the book that gave her back the joy of losing yourself in a book in I read books once. Now I have small children. Jenny from GingerBread House reviews her favourite book: Orla Kiely – Pattern. Nova from Cherished By Me posts about the books that fuelled her passion for reading in My favourite book. Not So Single Mum from Diary of a (not so) Single Mum reviews The Lady in the Tower. Becky from Book Reviews for Mums reviews the book that opened her up to her responsibilities and the choices she makes in life in My Favourite Book. Helen from Cheeky Wipes reviews her favourite books in From Riders to The God Delusion – my favourite books. Cass from The Diary of a Frugal Family reviews her first and favourite cookbook in Where It All Began. Cara from Freckles Family reviews a favourite from the past few years in A Favourite Book.
Related Posts
Category: Books