What?  I hear you shout?! THAT is Happiness??
Let me explain:
When you are feeling peckish (or H-ungry), there is nothing better than a nice crumpet smothered in butter and with a nice cuppa… and whilst munching on said wonders, flicking through a gorgeous cook book to decide what to make for supper. Blissful 5minutes in the day.
Also: check out the chopping board: it was a lovely wedding gift made from some wonderful Australian tree (I forget the name), given to us on our wedding day by a very lovely Australian friend (who came ALL the way from Australia ESPECIALLY for our wedding). She told me to use it every day, so it reminds me of our special day. I do and it does.
Also: check out the cook books: My Daddy Cooks by Nick Coffer and wonderful daddy blogger who is lovely and kind and generous and .. just fill in the blanks. And this is his AWESOME first book. You must check it out! I received it on Tuesday and already made the marble cake. It was LOVELY. And then there is Hungry by Innocent Drinks. I ADORE Innocent Drinks and everything they stand for. They are fun, quirky, adventurous and make people happy. Their Hungry book fits the bill. It landed unexpectedly on my doorstep this morning. Happy Whoop.
Finally: CHECK OUT that kettle and toaster.. surely such warm lovely colours can only make you feel Happy? I am beginning to feel very Happy indeed about agreeing to become a House Proud Innovator for Morphy Richards.. they are desperately trying to make me more house proud. So far we were at 1-1. I think they have just tipped the boat to 1-2 towards Morphy Richards. I love the toaster (doesn't it look GREAT?). I love that I can make 4 slices of toast (or crumpets) and that I can make everyone happy by toasting 2 slices darker than the other two – separate settings – see? I love that I have a matching kettle, which gives my kitchen a certain unified loveliness. No longer hodge podge for me. But swishy swishy stylish. I will have to teach Red Ted how to use the toaster now… (PS in case you are wondering that is the "Accents four slice toaster" and the "Accents Dome Kettle").
I am linking this with Alphabet Thursday: H is for Happiness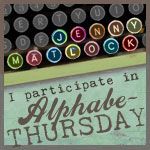 Related Posts
Category: photographs, Reviews