Kids Get Crafty: Loo Roll Monsters
Welcome back to Kids Get Crafty! You know Red Ted HQ and Loo Rolls – we LOVE 'em! I even had to write a whole ebook about them! The ebook is a great way to support this blog – so if you haven't got one yet… do go and take a look! In the meantime, you get another fab "free" loo roll craft right here, right now! I just can't help myself!
Today, we make fab little Monsters… I think this craft is great for little boys, but can also be a great way to help any young child that may have "issues" with Monsters at the moment. They are of course, FRIENDLY monsters.. Make them. Give them names. And at bedtime, but them by the bed to keep away any of those scary nighttime monsters – no more hiding under the duvet covers when you have these little guys by your side! Or place them on the windowsill facing outside and image them saying "BOOOO" to any other intruders. ONLY of course do this bedtime ritual if you have child that is already scared, don't do it with perfectly happy ones, as that may just start an anxiety!!
The Book
We love this little book. It is great right now for Red Ted (aged 3), as he is starting to appreciate the subtlies of a difference of opinion. It is about two monsters, sitting on either side of a mountain. They talk to each other through a hole that runs the length of the mountain. One day they start and argument: the one monster says that "day is departing" and the other monster says that "night is arriving" – who is right (both of course), but it takes a rock throwing fight that destroys the mountain for them to realise this!  Great story about seeing things differently and reconciliation!
The Craft
So, we decided to make some loo roll monsters. I love monster crafts, as there is no "right or wrong". Some children are perfectionist and get frustrated if something isn't perfect. But not here, as anything goes. Great to let the imagination run wild. You can also use any scraps of paper or material you have lying around…
Materials: Basic monster: A loo roll, paint & brush, googly eyes and glue, a pen.  Additions: wool for hair, tissue paper for spots, card for stripes, pipecleaners for arms, feathers, foam bits… have a rummage and see what you have.
Good riddance to all your "random bits".
Paint your loo roll in the desired colour/ colours & let dry
Once dry, using your thumb push the loo roll so you one side goes under the other
DECORATE to your hearts content:
For the hair we cut some wool, add LOTS of PVA glue and squished it on
The "boils" rare scrunched up bits of tissue paper
Monsters at your service!!
"Boooo! Naughty Naughty monsters, go away!"
Or just cuddle them!
Ah.. and don't forget: let the littlies have a go too:
Have you made some MONSTERS or imaginary beings in the past? I would love to see them and hear how you approached them! ALL kids related crafts very welcome – but especially Monsters & imaginary beasts!
Featured via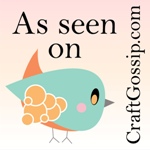 For more Kid's Craft ideas, click here for a full list.
If you have been crafty with your kid's be it at home, in the kitchen or outdoors, I would love for you to link up: