How to… make your own Scrapbook/ Artwork Calendar
This isn't a proper tutorial as such, but more a little idea to get your crafty with your children and throughout the year: start the year with making a personalised Scrapbook with your children AND start collecting art for a Calendar to give to Granny and Grandpa in Dec 2011!!
Firstly the calendar:
The idea is simple: each month, make sure you set aside one of your children's pieces of art. If it is 3 dimensional, take a photo of it. Make sure you note what month you made it in. I particularly like it if you make it seasonal – e.g. a flower in spring or a strawberry in summer. In Dec, then either print out a calendar for 2012 and add your artwork or buy ready made blank one from the shops. (of course, if you are quick, you can still make one for 2011). Just remember that you may need "smaller" pieces of art  – depending on the size of your final calendar…
The calendar becomes
a) A nice focus to help you craft once a month
b) A great way to "save" and cherish that art
c) A great gift
The Scrapbook
Simple scrapbooks are usually unattractive. Attractive ones are usually expensive. So buy a simple one and "tart it up":
Materials: a scrapbook, ribbon, brown paper, paints (but you can decorate it with stickers, draw in it, add photos..)
1) I found it easier to stick the paper and ribbon on first and then to cut it down to size.
2) Paint – we used the "cotton bud and clothes peg" technique – just remember a young child will start off fabulously and then descend into "brown mush chaos" – so give them 2 colours + white and when they start "mashing it all up" – finish painting and give them extra paper to let out their energies on.
3) Done. Start collecting those lovely crafts!
Enjoy and cherish.
Enjoying in with the Notes From Home Carnival: Theme "Organisation"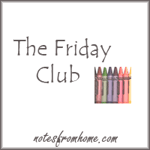 Notes From Home: Laundry
Make Do Mum posts Organising for Magpies
Cass at The Diary of a Frugal Family posts How To Be An Organised Mum
Jax at Making It Up posts her tips in A place for everything and everything in its place
Helen at Cheeky Wipes posts her laundry tips
Jules at I Need Curtains for the Window in my Head posts her tips for organising post