Kids Crafts – Baby can draw!
Welcome back to Kids Get Crafty. Today, I want to write a little about my passion and beliefs when it comes to art and adults and children alike having a go. I do talk about Pip Squeak a lot, but this applies to all ages! I hope I have succeeded incoming across "just passionate" and providing you with food for thought on getting crafty!
Also, don't forget that this is also a link up party/ blog hop for all craftiness with and for children! Do take part. Do be inspired! Link up at bottom of post! Hooray!
Old posts welcomed. Grab a button and add it to your post or side bar. Please do NOT post things for sale or Giveaways!
Come back weekly (Wednesdays) and link up!
As some of you may know, I am a big advocate of "everyone can", just give it a go. From adults to children. It is in part why I write this blog. I am passionate about creating and believe it is an important part of our well-being and development – and would love for others to Get Crafty, have a go and have fun. Build confidence in creating.
There is a host of research on right brain and left brain development and why arts and crafts is such a fabulously wonderful tool to help our children grow and develop whilst exploring the world and having fun.
I don't want to go into those, what I "want", is to get you "doing".
Everyone can. And so can you. And I have rarely come across a child who doesn't want to have a go, given the opportunity. Parental "Nurture" is key to this. I see two common "mistakes":
1) a parent "getting crafty" with a child and saying in front of them things like "oh, I am rubbish at drawing" or "I can't make a robot wit you, I don't know how.
2) parent saying:: "my toddler isn't interested in crafts".
So my thoughts on these to you are:
1) Parents need to lead by example. A friend of mine who teaches music, once mentioned how surprised she was when at a music class for <5yrs: the children were already exhibiting embarrassment about their abilities – embarrassment that they had learnt from the adults around them. When an adult says to a child "Oh, I can't draw a bus", a child learns to feel that they can't either. Or least that is my view….. We nurture a fear of failure, be it in singing or drawing "badly". Your child will LOVE anything you draw or make for them. They are only 2 or 3 or 4 and haven't learnt yet that plastic toys are viewed as superior. They will love you taped up carton robot or your elephant that looks like a pig!
2) Children explore the world by copying. They see you hang the laundry and want to have a go too. They see you drive the car and pretend a box is a car they can drive too. They see you WRITING or DRAWING and want to have a go too… i.e. you don't have to sit down and create artwork every day in front of them, but they see you writing something regularly, they will want  to have a go at holding the pen too. I regularly find, that if I do something new with Red Ted, he wants to watch me do it first before he has a go (e.g. these snowflake stamps we made – he didn't "get" the stamping bit, so refused to do it, but watched intently… next time round DID have a go).
I would say both these points are about NURTURE. Yes, it is true that some children simply don't like art, but that usually comes much later.
Enough lecturing. I wanted to show you something amazing. Yes, I am showing off. But I also want to make a point about nurture. Here you have my 9.5 month old daughter Pip Squeak DRAWING. I was gob smacked when I realised what she was doing and tried it on several different days to see whether I was imagining it or not. But I am pretty certain I am not. She sees her brother and me regularly draw and paint and wants to take part. Nurture at its best:
There isn't much literature on baby's drawing or art. And I don't really want to be precocious or pushy about the fact that Pip Squeak is already "drawing". However, there is no harm in encouraging it, is it? Whilst blog hopping, I came across "someone's blog" where the author was doing simple circle exercises with the baby. I can't for the life of me remember who it was.. if it was you, please drop me a line and I can update this post!
So I decided I could nurture Pip Squeak's obvious joy in pen and paper. Pip Squeak and I got drawing circles. My, did she have a huge smile on her face. She loved it. Below are some photos of different drawing sessions and drawing with her brother, as well as her very first "drawing" – "Scribbles in Gold"- Pip Squeak aged 9.5mths.
If your child is showing NO interest in drawing or painting, don't worry. After all we are ALL DIFFERENT with different interests. But ask yourself, do they EVER see anyone paint or draw? Have they got anyone they can copy? Do they have access to crayons, pens and paper? Could this be a reason why they are not interested? If in doubt, just start writing more in front of them. Show them that putting pen to paper is something interesting and let them have a go! I recommend chunky pencils – less edible than crayons and usually yield good results. I have found cheap, but good, chunky pencils in the supermarket! Go on. Go and paint.
And now to our book!
Celebrating that our babies CAN! I thought this book is hugely appropriate. It is a lovely little board book, with a cute baby on each page showing us what (s)he can do: I can crawl. I can jump. I can bend. A great book for a "start up" library – definitely for the wee ones amongst us. Very sweet and will still grab their attention around 2yrs old. Definitely one of our favourites for Pip Squeak at the moment!
And now I challenge you to go off and see what you and your children CAN DO!
If you have been crafty with your kid's be it at home, in the kitchen or outdoors, I would love for you to link up:
If you enjoy blog hops and link up parties.. do go and visit Cathy at the fabulous Play Academy every Friday! Just click on the badge below!
Linking with Friday Carnival "Parenting Tips"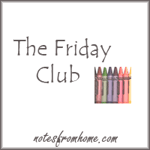 Nova at Cherished by Me shares her tips in Encouraging Children to Read.
Gemma at HelloitsGemma's Blog gives us her working mum tips in This working Mummy's guide to life.
Notes from Home: Kids help tidy.
Chris at Thinly Spread gives us her Secret to Relaxed Parenting.
Cass at The Diary of a Frugal Family shows us how she teaches her children about other countries and cultures whilst having fun in America Day.
Helen at Cheeky Wipes gives us her tips in Fussy Eating.
Mummy Beadzoid gives us some Parenting tips for the NICU/SCBU parent.
Kelly at Domestic Goddesque shares her advice in Terrible Twos: tips for dealing with tantrums?
Blue Sky at Looking for Blue Sky gives us some teenage tips.
Tiddlyompompom shares her weaning tips in her oh so helpful guide to weaning.
Mymumdom shares her tips in Parenting Tips (Me Over The Edge).
SouthoftheRiverMum tells us her plans to set up a Reward System at Home.
Not so single mum at Diary of a Not So Single Mum shares her advice on doing what you feel is best for your child and your family.
Jax at Making It Up discusses behavioural issues in a quandary in search of a tip.
Bod for Tea shares her advice on finding a 'helper' to encourage your child to do things they don't really like doing in Bunny says.
Hayley at Simply Hayley tells us about Hugs and Love.
Make Do Mum shares her stickability scale in Know Your Enemy
https://www.redtedart.com/2010/10/06/kids-crafts-baby-can-draw/