How to… make easy Coasters & Learn to Work with Clay (Guest Post)
The very creative Jane at Fired4u is fabulous at making crafting easy for everyone – of all ages and abilities. Make pretty things in a wonderfully accessible way – if you ever feel you want to get carfty but "can't" on your own, just visit her fabulous pottery store and get stuck in! Here she shows us how to make clever little coasters – out of anything like Fimo, Saltdough or Airdrying clay. There is lots about clay I did NOT know, so this is a really useful reference post on how to work with clay!!! I will definitely be making some with Red Ted as Christmas gifts from him to family (Pssst, family, stop reading now!). I also love that you can incorporate the seasons – e.g. leaf printing, which Red Ted adores… enough from me, more from Jane:
Hi, I follow Red Ted on twitter and love the crafts she does with her children. She asked me if I would write a project using clay. My normal work is with pottery if you click here – you'll see what I do in my day job.
So after weeks of thoughts and ideas here is one thought on what to do with clay – now when I mention clay I am talking about clay to be fired in a kiln as it's what I work with. However this project can be done with air dry clay (make sure you get the good kind with plastic type fibres in it as it's much stronger) or Salt dough or other craft 'clays' such as Fimo and Daz.
Items needed for 5 coasters
½ kilo of firing earthen ware clay (or salt dough or air dry clay or Fimo etc)
Old pillow case or smooth cotton sheet / old T-towel
Wood board or baking tray covered with cling film
Wood planks about 1/2cm thick or similar – thin books etc – just cover with a bag to keep clean
Wooden rolling pin
Scone cutters/ other round shapes
Items to push into clay to make interesting patterns
Little tiles or 2p pieces (weights to prevent curling)
When working with any of these products the trick is to get it even in thickness, this is so it dries out at an even rate; this reduces the risk of cracking. [comment from Maggy: AND if these are to be Coasters, you want a lovely even surface so your glass of wine or mug of tea doesn't topple!!!!]
1) So we need to roll the clay out flat, place it on cotton ideally (I use old pillow cases), or paper or some people use Hessian (gives a very textured effect on clay surface).
Place 2 pieces of wood (1/2cm) either side of the clay and a dry wooden rolling pin. Use the rolling pin to roll the clay; it's important you roll all the way forward to the end of the clay then all the back towards you to the end of the clay each time you roll the rolling pin.
While you do this keep turning the piece of clay over and turn it round – clay does not roll out smoothly – an overhang occurs (salt dough won't do this). This stops the over hand at the edges.
Then take one piece of wood away from each side and continue to roll the clay and remember to turn it over until the pin rolls on the wood again.
2) I used a 'scone' cutter to cut my coasters; I chose the largest one so a mug will sit on it comfortably. You can cut random shapes out by hand or etch around a bowl or mug etc.
After cutting 2 coasters I squashed my clay up again – if you don't squeeze all the air out or mould it to itself until its smooth again you will get joins showing in the clay. You can see the crazing on the coaster with sequins on it where I haven't smoothed the clay.
3) Once the shapes are cut place them on a wood board to dry (or a baking tray with cling film over it ).
4) So to the fun creative part – you need to find interesting items with grooves or patterns on them to press into the coasters to add design. I used an old butter pat, real leaves, sequins, buttons, pasta and peppercorns. At this point you could have a fun hunt about the house if it's a wet day or a garden hunt on a dry day. You could hunt all sorts out of the garden – bark, leaves, flowers, stones etc or materials with texture, lace or beads in doors etc
Press them firmly into the clay to make an impression a few millimeters into the surface. Do not leave the items you use to make the impressions in the clay as when the clay dries as it shrinks it will get stuck against the items and cause the clay to crack. Items such as leaves and sequins – place onto surface then gently roll the rolling pin over to push it into the clay without rolling the shape of the coaster away.
5) Now patience is required – if you have used firing clay these need to be left to dry out for 2-3 weeks before firing in my kiln. For the other clays mentioned at the beginning of this follow the drying instructions on the packets. I rest small tiles over the edges of the clay to stop them curling upwards when they dry out or 2p pieces do the same job.
6) Once my coasters have been fired I will paint them with under glaze paints, then glaze them and fire them. If you are using air dry clay poster paints or acrylic paints can be used.  A water based varnish can be used over the top once dry to seal the surface if you wish to use these coasters.
I hope you have fun doing this project and hope you send your results to Red Ted art.
If you live local to Fired 4 U in Preston Lancashire (Great Britain) you are welcome to join us for a clay session any time.
Wow! Isn't Jane clever?! I have to say, I didn't know that clay was quite so tricky to work with… so there are some fabulous pointers here and a great way to learn about clay! Needless to say, everything is a little easier with Saltdough or Fimo, great mediums to with when getting crafty with children!
Adding this to
This was featured on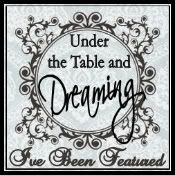 How lovely!