LEGO Valentine's Box & Card
Aaaah and LEGO Valentine's Fans? We have a great Valentine's Day Mailbox idea for you today.
As we kick of the annual 31 Days of Love, I welcome Make It Your Own, with a fantastic 2 for 1 LEGO Valentine's Box and LEGO Valentine's Card craft with you. Complete with free printable!
BUILDING BLOCK VALENTINE
Building blocks are one of the toys that are most played with in our house and we wanted to make a Valentine that went along with them to give to our school mates! We included a printable for this paper craft and idea to go along with the theme if you would like to make a recyclable Valentine box for school. Our children use the recycling bin as a source for creating and each year we have been transforming Kleenex boxes into something creative to collect one's Valentine's Day cards!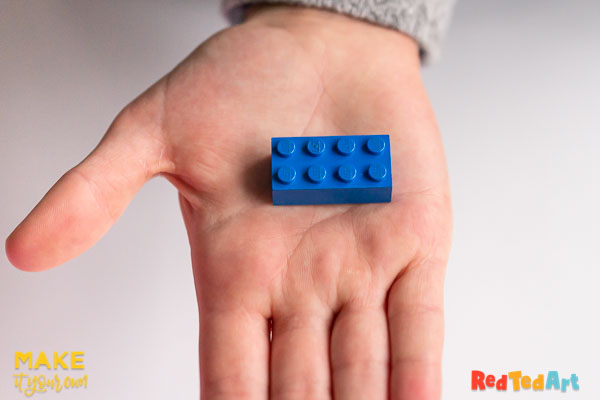 Materials to make your LEGO Card
LEGO Valentine Card 
Materials to make your LEGO Valentine's Mailbox
LEGO Valentine Mailbox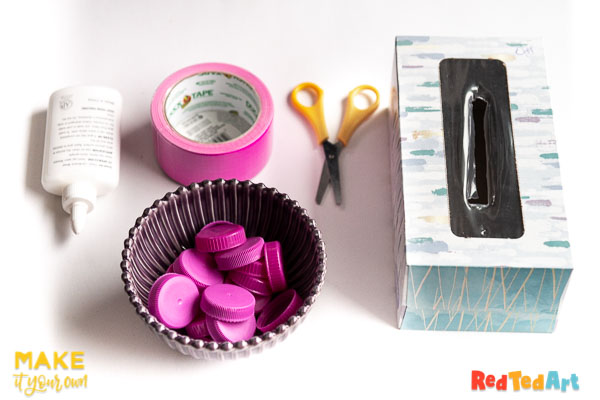 Tissue Box
Milk Jug caps
Glue gun/ glue (you could use craft glue as shown, but we used a glue gun for a sturdy hold)
We always find a craft tray and a smock helpful too!
How to make your LEGO Valentine's Card
Printable LEGO Valentine Card 
Purchase your building blocks. I find that buying a big box and then splitting it up is the most economical.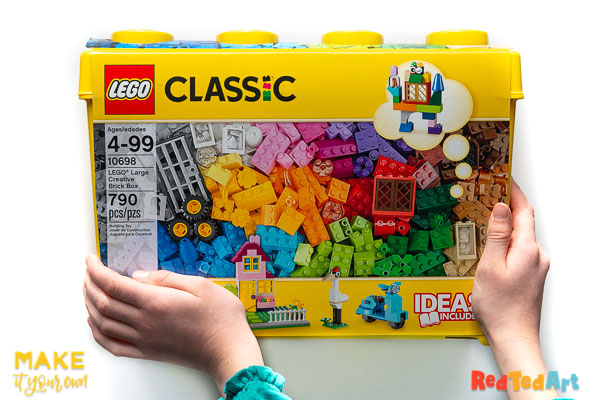 Print your valentine cards on cardstock in the colour of your choice. When making Valentine's we always print a few extra to account for any errors that might occur or if a new classmate joins the class. You could also colour them in if you like!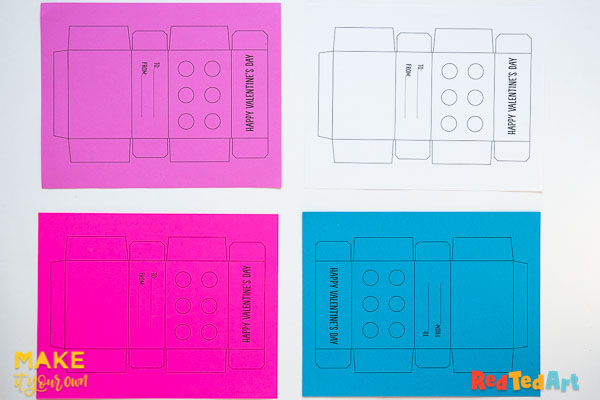 Write your classmates names, along with your own on the cards on the lines.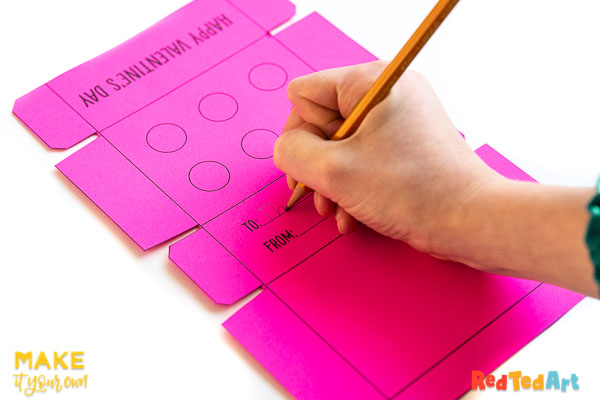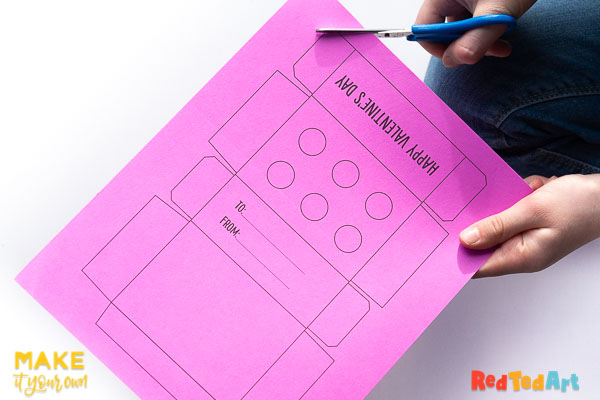 Fold along the lines and use a popsicle stick turned sideways to go over them, pressing down, to make the lines sharp.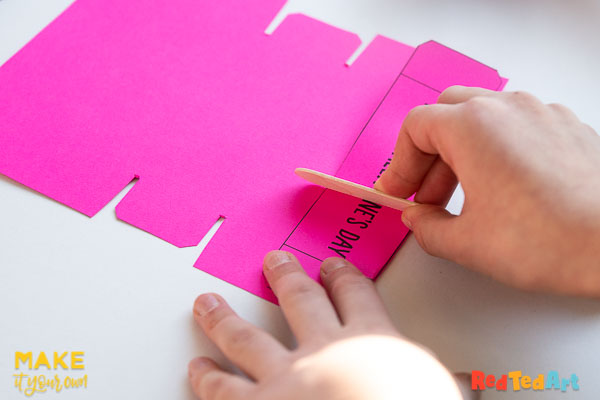 With the assistance of an adult, fill and close your Valentine with building blocks. Glue along the tabs with the smallest ones going in first, followed by the largest ones for the exterior. We found that a glue gun was the best for this (and our kid love using it), however, you could use a good glue stick as well.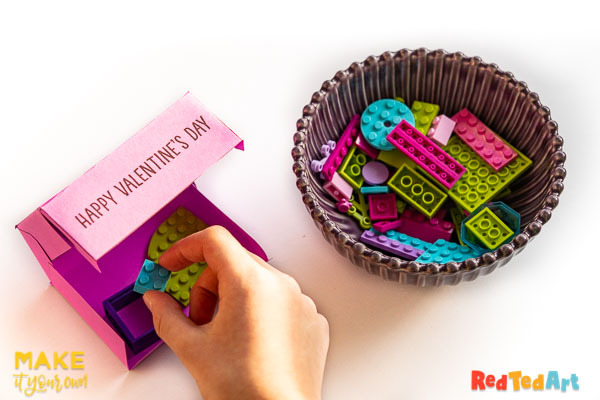 How to make a LEGO Valentine's Box
Collect and wash milk jug caps.
Carefully remove the plastic liner of your tissue box.
With the help of an adult, cover your box with duct tape of your choice. (You could also paint your box or cover it with construction paper if you like. We found that the duct tape added a bit of strength to the box.). Our daughter shows you a little trick for making the corners sharp.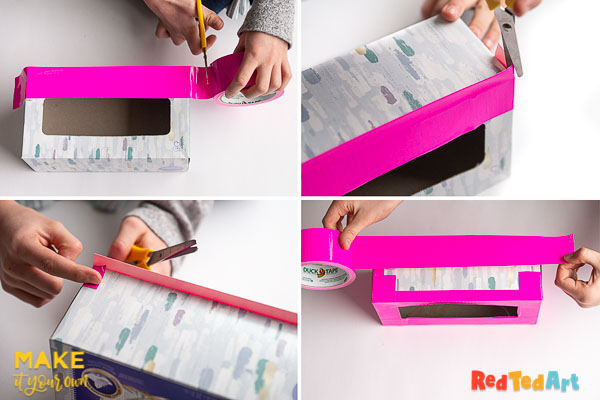 Glue your milk jug caps onto the top of your box. We used a glue gun for a secure hold.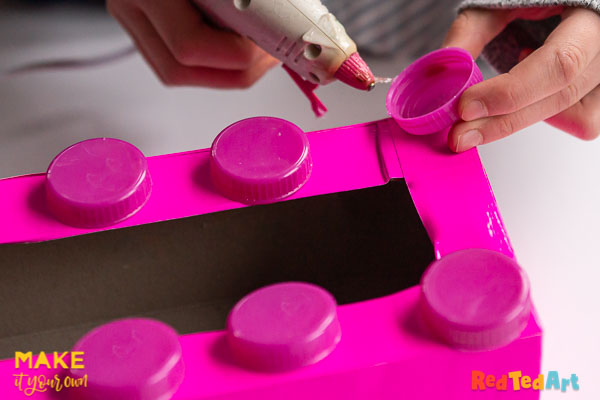 Give your Valentine's Day cards to your friends and collect yours in your matching box!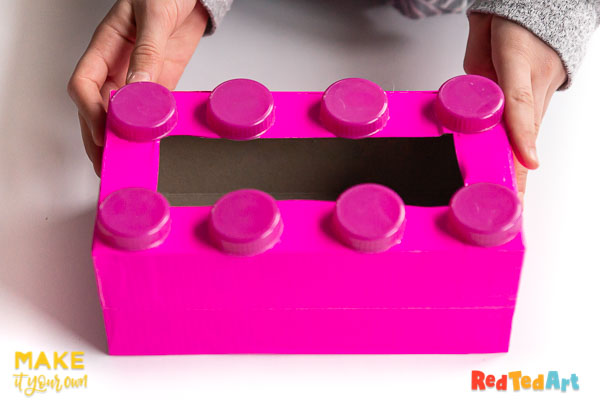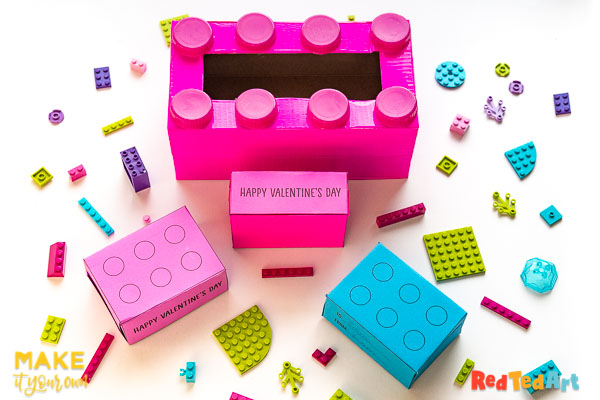 Thanks so much for having us on Red Ted Art Maggy! We've always appreciated your friendly nature, your guidance and of course your vast array of amazing ideas!
Pin this idea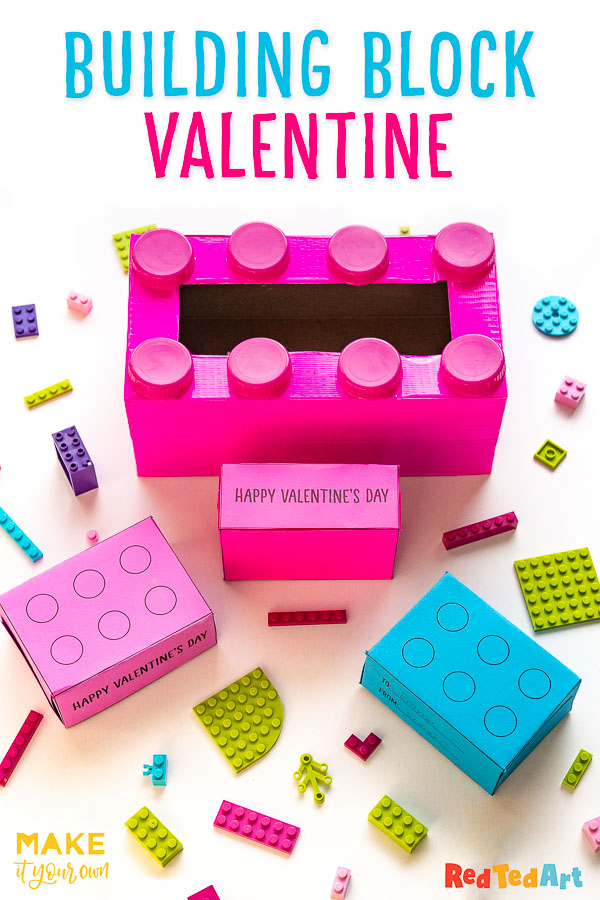 Other Valentine Ideas:
Butterfly Valentine's Day Card
Follow us on
Purpose
Reimagining items from the recycling bin.
Celebrating friendship.
Recognizing the various traditions associated with different celebrations.
Safety Notes
We suggest that you use a tray and a smock to protect your clothing and surfaces.
Use scissors and a glue gun with care and direct, adult supervision.
Use duct tape with supervision and for its intended purpose.
Small items such as building blocks can be a choking hazard, therefore be sure to keep them out of the reach of children ages 0-3 years of age or those that tend to put things into their mouths.
You may also like these Valentine's Day Mailbox Ideas:
As well as these LEGO Valentine's Day Gifts and Ideas