10 Easy Crafts Your Kids Can Do On Earth Day
Earth Day is celebrated on April 22nd and aims to raise awareness about environmental issues. Use the day to create some Earth Day Crafts that are eco friendly or encourage sustainable living! We have some fun and easy Earth Day projects for you to give a go today!
Earth Day Crafts which are "Earth Crafts"
Many of you love Earth Crafts on Earth Day.. well why not! Planet Earth is the talking point and it is important to talk to children about Earth as a whole. Of course you can simply paint a paper plate in Earth colours or have fun with coffee filters in a similar way – especially if working with preschoolers, but I like these Earth Crafts! One thing I ask you NOT to make is "Earth Day Slime" – unless it is one of our eco friendly slime solutions… I appreciate that slime is a super fun sensory activity, especially for little hands, but it makes me very uncomfortable seeing these type of "Earth Day activities", as they are packed with chemicals (borax) and glue (a plastic).
Our little Earth Day Bookmarks, are made with "fresh paper" – of course, you could go extra eco friendly and use paper from the recycling bin – especially white paper that has only been printed on, on one side. Then use markers and pens to decorate the paper like an Earth! I am not totally against using "new" paper for Earth Day crafting though – as paper does recycle and bio degrade well. And these bookmarks could easily be sold at school or in the classroom to help raise funds to donate to eco friendly charities!
Make an Earth Day Headband! And discuss ways you can be kind to the environment. Discussion ideas are included in this post!
In my Teacher Pay Teacher resources, I also have some simple Earth Day templates:
I love this craft, as it uses up some old shredded paper, that we were unable to recycle! Many recycling plants don't "like" shredded paper, as it clogs up their machines, so it often just lands in landfill. One way of reusing shredded paper is to make a paper clay – pulping the paper and adding some homemade natural paper mache paste! Then use an existing bowl to shape the clay and let it dry! So easy and fun and a great way to discuss recycling and reusing with kids whilst making an "earth themed" craft!
Making paper mache balloon earths and suns is a great "childhood classic" activity. You get to recycle newspapers, make homemade paper mache paste (just flour and water – very eco friendly!) and use earth day friendly paints. I do have one small issue though – the balloons! If you can get latex free balloons for this craft, it certainly would make it that touch more eco friendly!
Earth Day Crafts that encourage children to think about upcycling and sustainablity
For me Earth Day Activities should really centre around sustainability. What I think Earth Day should REALLY be about, is upcycling and reusing items, that would otherwise have ended up in landfill. To me it is also about "making do" and avoiding buying things that you can make do without or with a few clever tricks can created your own. In other words: buying less and reusing more!
So though SO MANY of our crafts are recycled (you only have to look at my Toilet Paper Roll crafts), I thought I would pick out and highlight some, that I think could be particularly good around an Earth Day discussion in the classroom!
Get Green Fingers with recycled seedling pots
Seedling pots made from newspapers. Making newspaper seedling pots is really quick and easy – all you need is a glass or a tin can (don't get tricked into buying one of those "clever devices".. they are an unnecessary purchase that only end up in landfill). Newspaper plat pots are great for starter gardens, especially in schools or classroom settings. The only "but", is that you do probably need to water them a little more, as I find they do dry out a little. But they most definitely work! Toilet rolls can also be used as seedling pots.. and we have other thrifty garden starter ideas for you here.
The beauty of this craft, is that you are recycling, avoiding purchases AND getting the kids to grow things!
This is also an Earth Actvity for kids of all ages, from toddler to preschooler to the seasoned gardener! They are handy for all!
Similarly, learn how to make some seed bombs and give these to friends! Grab some clay, dirt and flower seeds and combine in this easy Earth activity. For those of you seeking a sensory Earth Day activity, this one is great for sure!
Construct a bug hotel.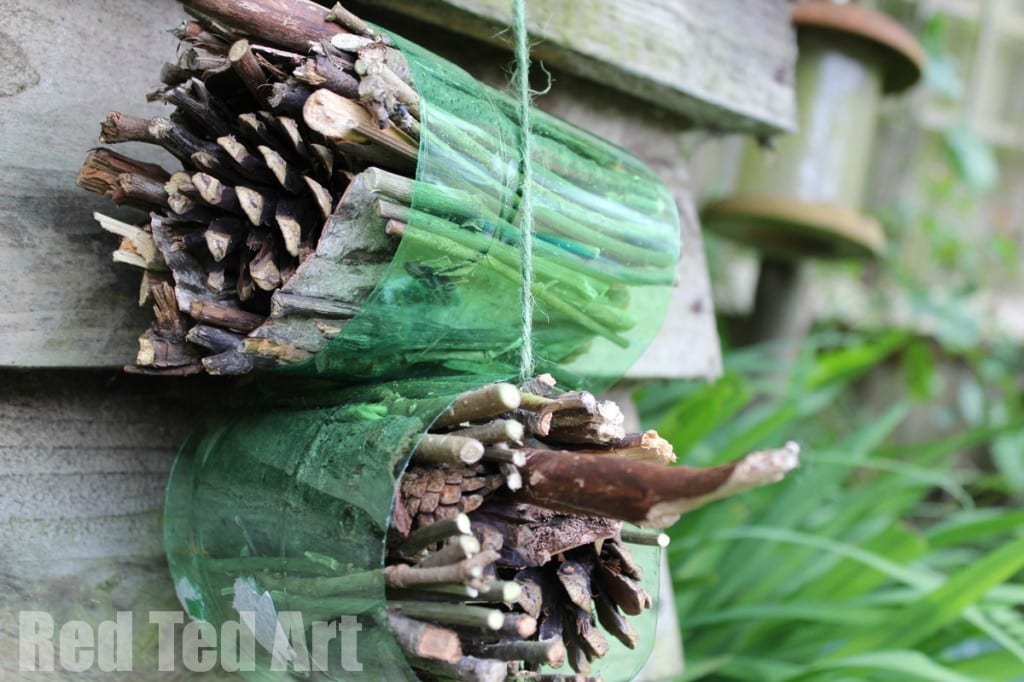 Make a simple bug hotel from nature finds and recycled plastic bottles. Create a cozy place for all the creepy crawlies to hang out. Cut a two-liter plastic bottle into two cylinders, then stuff it with sticks, pine cones, bark, or any other natural material. Make sure to pack the organic material tightly. Then loop a piece of twine or yarn around the two cylinders and hang your bug hotel from a tree branch or fence.
Make your own toys
Make your own cardboard toys!! These Cardboard Safari animals (plus the random camel) are just one example of the amazing cardboard box crafts you can make and play with. The kids and I have been making our own toys for YEARS! And there is no question that a homemade toy is just as good, if not better than a shop bought one, as the kids are VESTED in the process. They love making and they love playing. So instead of buying the latest "thing", make your own! Here are examples of what you can make with a cardboard box! Our favourite include, DIY Dolls Houses, DIY Pirate Ships and our "carry along doll house" set. Don't buy. Make your own. And make your own from recycled materials!
Similarly, there are HOST of fantastic toys you can make using just Toilet Paper Rolls and other recycled bits and bobs. Our Toilet Paper Roll Marionettes have been popular for years.. but toilet paper rolls can make all sorts of story props, decorations or even gift boxes! Make one of these and discuss withe the children in the classroom the benefits of making your own rather than buying new!
Decorate with rags!
Now of course, Earth Day isn't at Christmas! And here I am sharing a Christmas Wreath.. but what I am really sharing is the concept.. the concept of Rag Rugging or working with Rags and that even the smallest piece of something can create value. In fact, the centres of these red flowers in the wreath are made from sweetie wrappers! So fun! I also have some rag hearts:
… so you don't have to use "left overs" just for wreath making. It is about cleverly combining colours and keeping things fresh and make some super cute Rag Hearts. Working with old fabrics can easily decend into "ugly" colour combinations. But if you collage your materials carefully, you can still make pretty things!
Learn to sew a simple purse or shopping bag
Making upcycled purses! This Owl Purse was made as part of a set of recycled crafts in the classroom. The main body of the bag/ purse is a trouser leg (jeans cut offs are great for this too), the strap is made from homemade tshirt yarn. Granted, the owl is made using "new" felt.. so this is 100% recycled, BUT.. i think combing old with new is ok! Or, if sewing skills are better you, you can use other upcycled fabrics to make the owl – but it would need more hemming. This craft encourages children to look beyond the waste paper basket. Just because a tshirt has a stain on it and can't be gifted or sold in a thrifty store, does not mean it is an "end of life" item. Spark their creativity and see what designs they make! They may even wish to add a beautiful planet cut out to the front of the bag!
Make shopping bags from recycled materials – shirts are SUPER fun as a shopping bag… but anything goes! Though I know many grocery stores use paper bags for their shopping and "paper bags" are considered eco friendly (as they biodegrade), they still impact the environment. Afterall, trees need to grow, get chopped down and processed in order to make them into bags! Similarly, there are now MILLIONS of jute bags on the planet, as people jumped on the eco friendly bandwagon. But again, the jute bags are purpose made – they require bleaching and sewing and shipping.. don't buy any, don't decorate any with Earth day messages, but be truly Earth Day friendly and make your own from fabrics that are destined to landfill. Making a bag is a great sewing project for kids. And if you use old sheets, you can still decorate them in funky ways – including handprint trees that are perfect motive for Earth Day! Get involved with organisations like Morsbags and donate your shopping bags locally!
I hope that you feel inspired by these Earth Day Crafts for kids. I know it doesn't contain your "classic" crafts like a paper plate earth day craft or Earth Day sun catchers… but I do hope that they provide you with some easy activities that help you discuss Earth Day and environmental issues in a fun way whilst making something useful and eco friendly. As well as teaching kids some basic skills (e.g. gardening, sewing) that will help their sustainable living in the future!
Wishing you all a very Happy Earth Day!